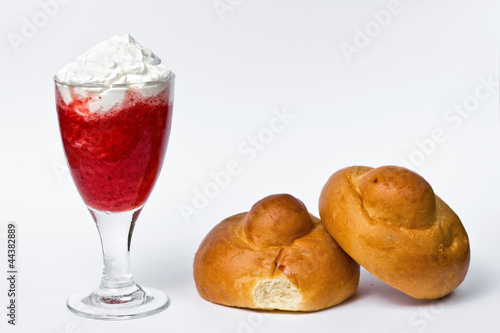 A recipe that in Italy, especially in the southern areas, it does not need much introduction!
This authentic goodness, was born in Sicily long, long time ago and continues to reign in this wonderful land!
Try especially when you go in Sicily
The recipe is not even a recipe but a list of products you need to enjoy it
ingredients:
A typical Sicilian pastries to accompany the ice cream (you can still use even with a simple croissant)
Pistachio ice cream
1 tablespoon of ricotta cheese
1 teaspoon orange blossom honey
preparation:
open ... the brioche, spread ice cream, cottage cheese and pour over a teaspoon of honey. Close and eat!
HIGH ENERGY!
to enjoy with a fresh almond milk

Una ricetta che in Italia, soprattutto nelle zone meridionali, non ha bisogno di tante presentazioni!
Questa autentica bontà, nasce in Sicilia molto, molto tempo fa e continua ad imperare in questa terra meravigliosa!!
Da provare soprattutto sul posto!!
La ricetta non è neanche una ricetta ma un elenco di prodotti che vi servono per gustarla
Ingredienti:
Una brioche tipica siciliana per accompagnare al gelato (potete comunque usare anche un semplice croissant)
Gelato al pistacchio
1 cucchiaio di ricotta
1 cucchiaino di miele di zagara
Preparazione:
...aprite la brioche, spalmate il gelato, sopra la ricotta e versate il cucchiaino di miele. Chiudete e mangiate!!!
ALTAMENTE CALORICO!
da gustare con un latte di mandorla fresco