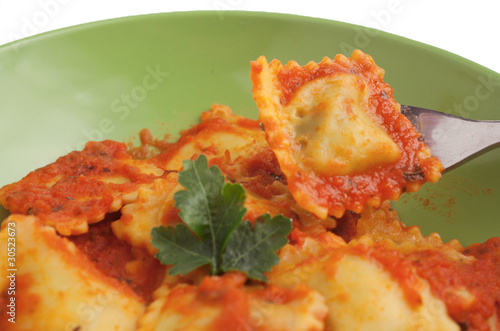 400 grams of fresh egg pasta Lasagna format
200 meat of chicken previously boiled
50 grams of grated Parmesan cheese
100 grams of bread crumbs
Take a pan, put the liver washed and cut into small pieces. Add the butter and the breadcrumbs.
Take the meat grinder, put in all the meat and chop finely.
Add the egg yolks, Parmesan, a sprinkling of nutmeg, and salt.
Now prepare the dough for ravioli.
Arrange on a table the strips of lasagne softened and put a scoop of meat at a distance of about 4 cm apart. Now take another strip and above sovrapponetela not before he brushed the bottom with the egg yolk (in this way will join the 2 flaps).
Take a wheel shaped pizza cutter and cut all the ravioli.
Cook in salted water for a few minutes and then maybe toss with the sauce with spinach.
To be enjoyed with a good Oltrepò Pavese
Ingredienti per 4 persone
400 grammi di pasta all'uovo fresca formato Lasagna
200 di pollo precedentemente lessato
100 grammi di midollo di manzo
50 grammi di parmigiano grattugiato
100 grammi di fegato di manzo,
100 grammi di pangrattato
Prendete una padella, mettete il fegato lavato e tagliato a pezzi piccoli. Aggiungete il burro e unite il pangrattato.
Prendete il tritacarne, mettete dentro tutta la carne e tritate finemente.
Unite i tuorli, il parmigiano, una grattata di noce moscata e il sale.
Adesso preparate la sfoglia per i ravioli.
Disponete su un tavolo le strisce di lasagne ammorbidite e mettete una pallina di carne alla distanza di circa 4 cm una dall'altra. Adesso prendete un'altra striscia e sovrapponetela sopra non prima di aver spennellato la parte inferiore con il giallo d'uovo (in questo modo i 2 lembi si uniranno).
Prendete una rotella sagomata taglia pizza e tagliate tutti i ravioli.
Cuocete in acqua salata per qualche minuto e poi conditeli magari con del sugo agli spinaci.
Da gustare con un buon Oltrepò Pavese.